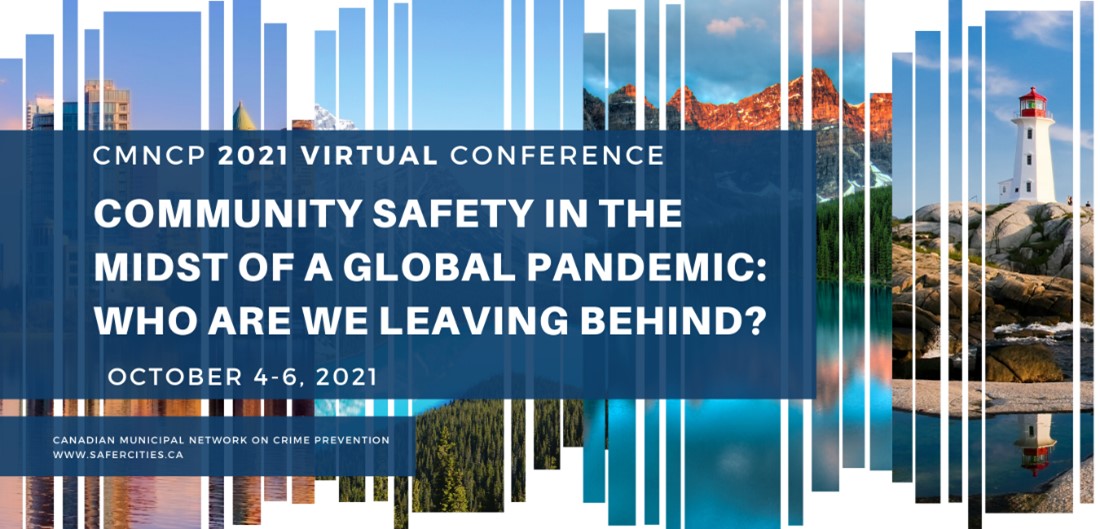 CMNCP's 2021 virtual conference aimed to support urban and rural municipalities, Indigenous communities, agencies, groups, and individuals in their efforts to prevent crime and increase community safety in the communities and neighbourhoods in which they work, live, learn, or play.
Join our conference mailing list to receive important updates.
Social media: #CMNCP21
Who Attended?
Over 200 participants attended CMNCP's 2021 virtual conference. The conference brought together individuals from a range of sectors, disciplines, and career stages, all striving for a common goal: decrease crime and increase community safety and well-being. Participants came from a variety of spaces including:
Individuals working in community safety and crime/violence prevention
Administrators and managers
Elected officials
Policy-makers
Individuals working in urban, rural, remote, and small communities
Academics and researchers
Students/trainees
Media personnel
Anyone with an interest in crime prevention, community safety, and well-being
Important Dates
Registration: Closed
Preliminary Program Launch: mid-August
CMNCP 21: Monday October 4 to Wednesday October 6
Conference Topics
The 2021 Conference examined several topical and leading-edge questions designed to inspire and provoke conversation in creating safe communities across Canada:
What does "safety" mean and for whom?
What are the effects of the COVID-19 pandemic on community safety?
What is the role of community safety practitioners in advancing equity and diversity?
How does addressing systemic issues, such as racism and oppression, as well as advancing social justice and equity increase community safety communities?
How can communities take action against hate and violent extremism?
The conference also provided participants with opportunities to:
Expand and deepen their knowledge and skills through sessions and workshops in crime prevention and community safety.
Connect to other practitioners through networking.
Conference Objectives
Foster a community of practice through interactions and exchanges among those working in crime prevention and community safety across Canada.
Bring a lens focused on the impact a global pandemic has on community safety.
Advance equity and diversity as an imperative to creating safe communities.
Illustrate the way opportunities to address systemic issues, such as racism and oppression, can increase community safety.
Enhance knowledge of practitioners.
Provide coaching opportunities to current practitioners.
Translate evidence into programs, policy, and practice through a keynote address and a keynote discussion panel.
Outline important considerations for adding equity, diversity, and inclusion (EDI) and anti-racism lenses to everyday community safety work including measures, policy, and performance.
Structure
The 2021 virtual conference took place from October 4-6 and included an opening session & keynote address on Monday October 4, 2021, thematic sessions, networking sessions, and a closing session & keynote panel on Wednesday October 6, 2021.
Confirmed Keynote Speakers
Senator LaBoucane-Benson
Nishan Duraiappah (Peel Region Chief of Police)
Annette Trimbee (President, McEwan University)
Roxanne Springer (Research Associate, Viessmann Centre for Engagement and Research in Sustainability (VERiS), Laurier University)
Erica Beaudin (Executive Director, Regina Treaty Status Indian Services)
Confirmed Thematic Sessions
Homelessness
LGBTQ2 Communities
Rural Crime
Social Polarization and Hate
Systemic Racism
Upstream Prevention
Violence Prevention
Violence & Trauma
Youth Violence Prevention
Sponsorship
CMNCP appreciates the financial support from corporate sponsors. Financial contributions do not entitle corporate sponsors to any involvement in the development of the conference program.
Sponsors
MOTOROLA SOLUTIONS

Program at a Glance
Preliminary program launch: mid-August

Program is subject to change.
All times are Eastern Standard Time.
Registration
Registration closed

CMNCP 2021 provided a virtual environment to facilitate knowledge sharing as thought-provoking speakers present content. Registration offered participants access to over 15 sessions and associated content, as well as the opportunity to connect with speakers and engage with participants. The virtual conference platform gave participants the opportunity to:
Discover new solutions, innovations, and partnerships to apply in day-to-day settings.
Connect with speakers via online polls, audience Q&A, and the meeting hub.
Registration Options
Pricing is per person or group. The sharing of registration links is not permitted.
Early Bird
Ends September 1, 2021
* In order to qualify for member rates, applicant must be from communities that are members of CMNCP in good standing. Please contact admin@cmncp.ca to inquire if your community is a member in good standing.
** Colleagues from the same community attending together.
*** See below for more information on community rates.
Community Rates
Supporting knowledge exchange among crime prevention, community safety, and well-being professionals, volunteers, and others working in our communities is vital to CMNCP's commitment to equity, social justice, and evidence-informed decision-making.

We encourage the participation of diverse communities in our national conference and understand that funding for professional/volunteer development/conference attendance can be difficult to obtain. To support your participation in CMNCP's 2021 Conference, special registration rates have been established for delegates for whom the cost may be a barrier to attend.

If you are interested in accessing this rate, please contact admin@cmncp.ca.

The sharing of registration links is not permitted.
Cancellation and Substitution Policy
Cancellations received on or before September 30th will be subject to a $25 cancellation fee. No cancellation refunds will be provided after September 30, 2021.

If you are unable to attend the conference you may designate someone to attend in your place. Requests must be made by the person registered and received by e-mail on or before Thursday September 30, 2021. No substitutions will be granted thereafter.
Virtual Conference
Our virtual conference platforms (Hopin & Zoom) will allow participants to:

Stream live sessions and connect with speakers via online polls and live Q&A.
Interact with other participants directly and share contact information.
Connect with attendees via 1:1 chat or in small groups.
Export contacts during networking sessions on the platform.
Virtual Access
Only registered participants will have access to the virtual conference platform and post-conference recordings (when applicable).

The only equipment necessary for participants is an electronic device with an internet connection. The virtual platforms work on computers, tablets, and smartphones.

Your internet connection needs to be at minimum, 5mb upload and 5mb download. You can perform a speed test to identify your internet upload and download speeds.

The virtual conference will feature many of the same program elements as the planned in-person event. Participants will be able to ask questions and up-vote other questions. Presenters will be able to answer verbally during the live session.
Keynote and other sessions will be live streamed and feature either a keynote address or a panel discussion with a live question and answer period.
Sessions run from 10:30 to 16:30 (Eastern Standard Time) daily to prevent screen fatigue and allow participants across the country to attend.
We understand that networking is an important part of conference participation and our virtual conference platform Hopin allows for the interaction of all registered participants and presenters through the networking space.
Conference Steering Committee
The conference is the result of hard work and commitment from the dedicated members of the conference Steering Committee.

Felix Munger, Canadian Municipal Network on Crime Prevention
Jan Fox, REACH Edmonton (AB)
Bree Claude, Strathcona County (AB)
Paul Lang, Kent Regional Service Commission (NB)
Kristopher Wells, MacEwan University (AB)
Sofia Alani, REACH Edmonton (AB)
Jeff Honey, City of Winnipeg (MB)
Lee-Ann Chevrette, City of Thunder Bay (ON)
Scott McKean, City of Toronto (ON)
Dave Dickson, City of Williams Lake (BC)

Frequently Asked Questions
Will live virtual sessions be recorded and available post-conference?
Most session presented live during the virtual conference will be recorded and made available to participants for one-year post-conference. Presenters are encouraged to review their presentations for sensitive and confidential information before submission, as recording will not be edited to remove this information. Some presenters may choose not to have their presentations recorded and/or posted.
When does registrations open?
Registration begins mid-July.
Can international delegates register?
Yes. Please note that all sessions times are in Eastern Standard Time.
How do I register for the community rate option?
Please email admin@cmncp.ca if you are interested in registering for the community rate.