About CMNCP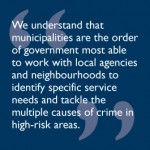 The Canadian Municipal Network on Crime Prevention (CMNCP) is a growing network of Canadian municipalities committed to greater use of effective and collaborative crime prevention.  CMNCP developed out of the National Municipal Network for Crime Prevention of representatives from 14 municipalities that was launched by the Institute for the Prevention of Crime at the University of Ottawa in 2006.  CMNCP adopted its new name and vision in 2015
From 2006 to 2009, the CMNCP benefited from federal funding and a partnership with the University of Ottawa to become a community of practice and produce "Canadian Strategies and Practices" (2008) on what is needed for municipal crime prevention to be sustained as well as "Action briefs for municipal stakeholders" (2009) on how to do it.
From 2009 to 2015, the strong commitment of the members of the National Municipal Network (now CMNCP) and of the Institute for the Prevention of Crime at the University of Ottawa continued to build on the work done in developing knowledge and in sharing experiences and expertise to make Canadian cities and communities safer.
In 2015, the commitment of members led to federal funding for the project called Building Municipal Capacity to Harness Evidence to Prevent Crime.  This is a project of the CMNCP in partnership with crime prevention specialists at the University of Ottawa with the financial support and collaboration of the National Crime Prevention Centre of Public Safety Canada.  This project will foster the capacity of CMNCP to work as a community of practice to harness evidence to prevent crime and to engage municipalities in comprehensive community safety strategies.