Crime Prevention Evidence (2015 to present)
These summaries provide easy access to evidence on crime prevention and illustrate actions to be taken by elected politicians, senior municipal officials, police executives, community safety coordinators, and citizens.
Crime Prevention Evidence (2006 to 2014)
Series 1: Invest Smartly in Safety for the City (Action Brief 2009 vol. 3.1)
1.1 Why Invest shows the argument for cities to take responsibility for investing pre-crime prevention. It talks about the challenge. It focuses on the promise of prevention. Who and what is the municpal network.
1.2 How to Invest shows how to use knowledge and experience to target what works and avoid what does not work. It calls for matching increases in expenditures on enforcement with increases in effective and sustained pre-crime prevention. It talks to ways to guide and leverage funding from other orders of government, the private sector and foundations.
1.3 Take Responsibility demonstrates why and how to create or strengthen a responsibility centre – a small secretariat – to develop and foster collaboration between the municipality, school boards, the police service and non-governmental organizations. This can reap dividends in focused pre-crime prevention, including through tri-partite arrangements with other orders of government.
1.4 Plan Strategically shows key steps in developing a strategic plan to identify where current resources and new investments would decrease crime and enhance community safety and where populations, places and neighbourhoods within the municipality have special needs. It provides a basis for priorities, implementation and evaluation.
1.5 Engage the Public discusses how to engage the public in taking actions to reduce crime and enhance community safety as well as identify and enlist existing community groups that can help with crime prevention and solve their neighbourhood's problems. It shows how public engagement can enrich and sustain effective crime prevention actions.
Series 2: Tackle Safety Successfully in the City (Action Brief 2009 vol. 3.2)
2.1 Safe Streets discusses effective ways to reduce youth and young adult violence, including violence around gangs. It highlights successful violence reduction in cities in Canada and abroad. It shows specific ways for municipalities to make streets safer.
2.2 Women's Safety is often overlooked in cities. Municipal action in Canada and abroad has reduced physical and sexual violence against women as well as helped women of all ages feel safer. Municipal stakeholders must make investment decisions for safety that are more sensitive to women.
2.3 Aboriginal Peoples' Safety is a daunting challenge because of the intergenerational and acute nature of the risk factors that lead to violence. These problems cannot be solved by more police and imprisonment. The solutions lie in comprehensive actions identified in the other Action Briefs and engagement of Aboriginal leaders in using promising strategies.
2.4 Property Safety shows effective ways to reduce property crime such as theft from and of automobiles, break and enter and so on. It uses the inspiring example of the auto theft reduction in the province of Manitoba. Cooperative planning using urban design, transportation policy, policing strategy and engaging practitioners are proven ways to succeed.
2.5 Policing for Safety encourages municipalities to use their current police resources more efficiently and effectively to reduce crime. Greater use should be made of best policing practices, identified internationally, including using crime analysis to guide strategies and partnering with social, school and other agencies.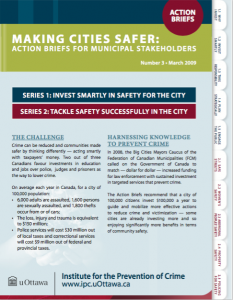 (Click to view Action Brief vol.3)
Bibliographical References for Crime Prevention Evidence for Canada, USA and Internationally